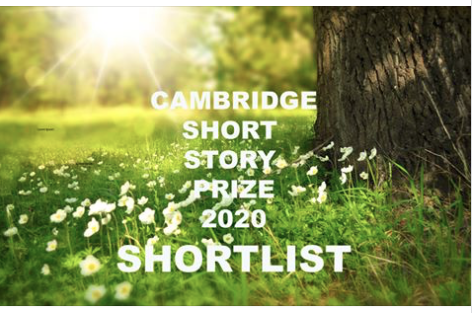 Last month, I was delighted to learn that I had made the long-list of the TSS Cambridge Short Story Prize. I've said before that I'm a great believer in long-listing, honourable mentions – any sign that your work stands out in some way. But this time, it was particularly welcome. I wrote the story at the start of May, in the depths of the lockdown, and a couple of months after we had all become aware that we were about to engulfed by a pandemic.
I'm someone who has always found it hard to write when life is not going well – and this time, it wasn't going well for most of the planet. I was tinkering with my novel, I was trying a new short story, but it wasn't working. I would change to another, then back again, but I still knew it wasn't right. And then I began this one: 'How Plants Bounce Back from Crushing Blows.' And when I finished, I knew it was a good one (I tend to have a sense of this now; not infallible, but fairly reliable).
I saw that the TSS Cambridge Prize was open for entries and decided to submit it there. When the long-list was published, I'd forgotten the title of the story, (they were listed alphabetically by title), and I missed it first skim through, so there was that sinking rejection feeling. Fortunately, I realised my mistake and checked again, and the sinking was replaced by that pleasurable sensation of satisfaction. One that was greater than usual, as I hadn't been wrong about my instinct – there were accomplished readers who thought well of it – but, more, I had, at last, created some good work, I was writing again. Strangely, in perfect irony perhaps, the story was set in lockdown.
Then, last week, the short list was announced, and 'How Plants…' had moved into that, and would now be published on the TSS website. And, only a few days later, the winners were announced, and I won third prize. This would have been wonderful at any time, but because of the circumstances, and because writing had been such a challenge, I was genuinely thrilled.
Thank you, TSS, and judge, Katy Darby, and congratulations to the first and second placed. But also well done to everyone who entered, because that, in itself, is a positive action, in the face of very difficult times.