Winning the BSSP first prize was truly so unexpected that, from the moment of the announcement, everything was rather blurred!
Fortunately, there are a few photos of the event (courtesy of my husband), to remind me of – and to share with you – this special evening.
The ceremony was held in Waterside 3, in the Watershed, on Bristol Harbourside – a great venue in a lovely setting.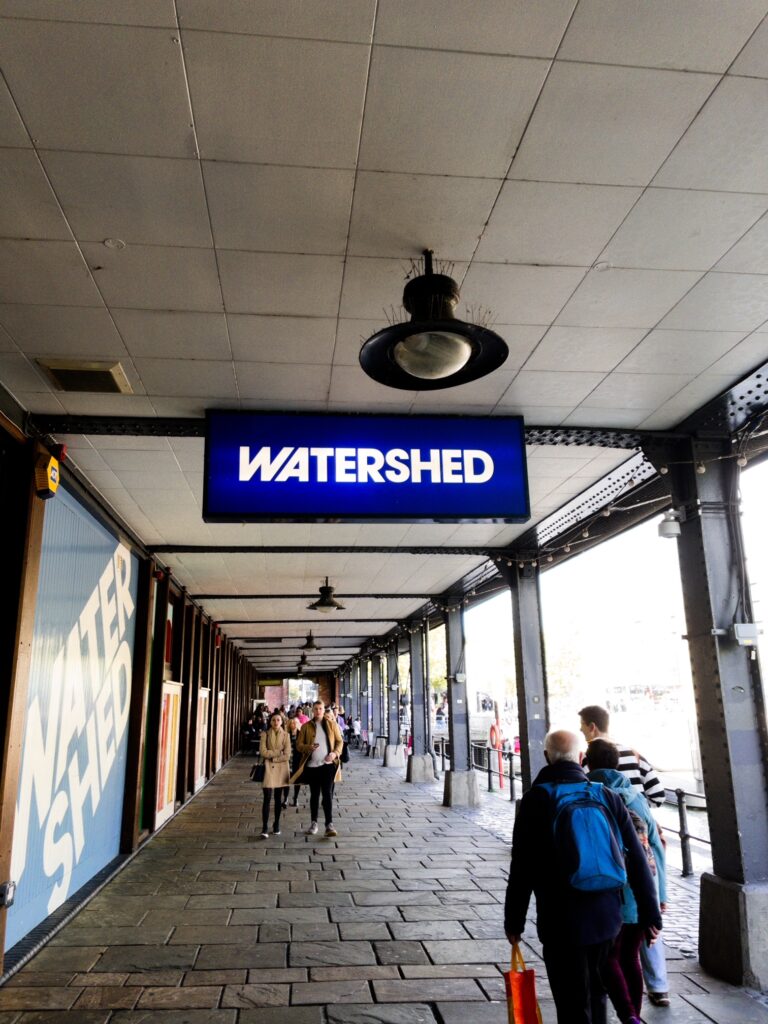 We were all welcomed by Joe Melia, who is the co-ordinator of the BSSP, and has worked so hard in that role. Twelve out of the twenty shortlisted writers were present, which is a good number, and the event was streamed, so that those who were unable to make it could see it, too.
Joe ran through the format, which was fairly straightforward and quite relaxed – though, unfortunately, as I didn't think I was going to win, I didn't pay enough attention…
There was a break, then, for the writers to get to know each other, and for the guests to arrive – quite a turn-out as it happened.
Then it was time for the announcements. Joe made a short speech, praising the standard of entries (it also managed to be very witty and topical!) and then the winner of the Sansom prize for a Bristol writer was announced. This was Johanna Spiers.
Then judge, Jessica Taylor, bookshop owner and regional sales manager for Penguin Random House, took to the podium, and without much ado, announced the third prize, which was Johanna, again! Congratulations to her.
Second prize went to Sufiyaan Salam. Congratulations, Sufiyaan!
And then there's that moment when you're thinking, 'okay, well I didn't win anything, but being shortlisted is a great achievement.'
Only, somehow, Jessica was saying my name, and the title of my story, 'A Cure For All Our Ills'.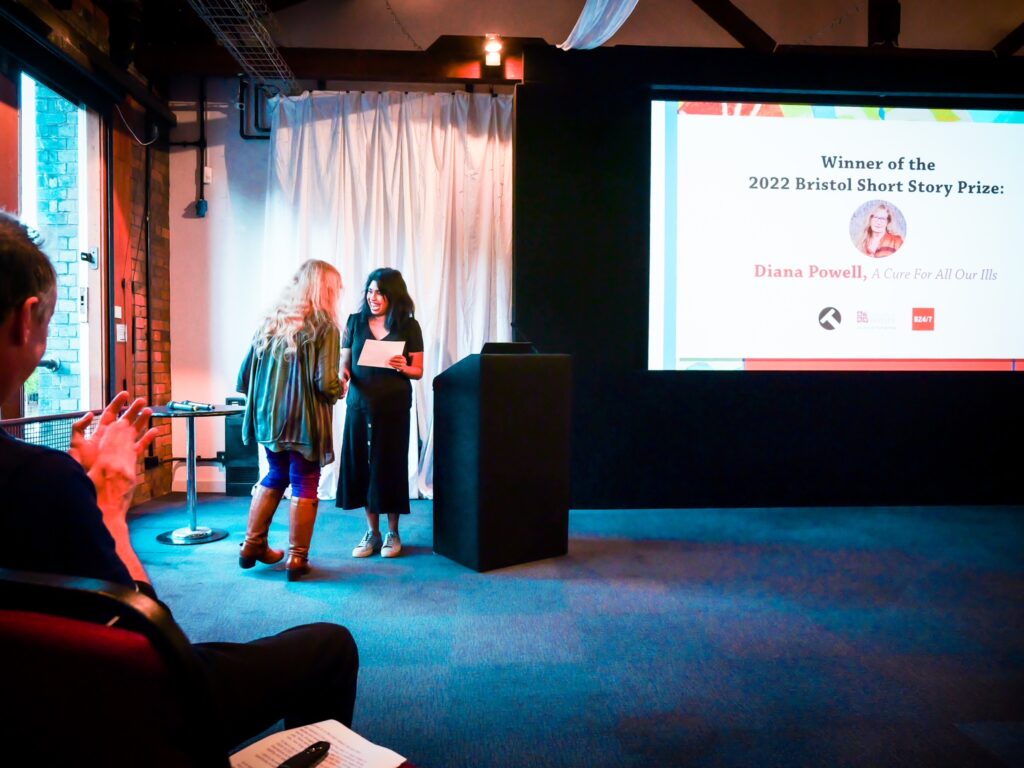 I had to make a short speech, which I managed to do, and I hope I thanked everyone, but I'm not sure.
I do remember saying a little about my story. One thing I'm particularly pleased about is the fact that the story is set just up the road from where I live in the heart of rural Pembrokeshire and is based on a local tradition. Briefly, this tells how the church of St Edren used to have a well, which was said to cure rabies and other 'mental disorders'. When the well dried up, this power was transferred to the grass in the churchyard, and it became necessary to eat the grass between slices of bread, as a sandwich. 
As soon as I read this, I knew there was a story there – I just didn't know what it was straight away!
This is a photo of Joe, showing me the anthology with my photo and biography ahead of the first story, which I then had to read the first page of.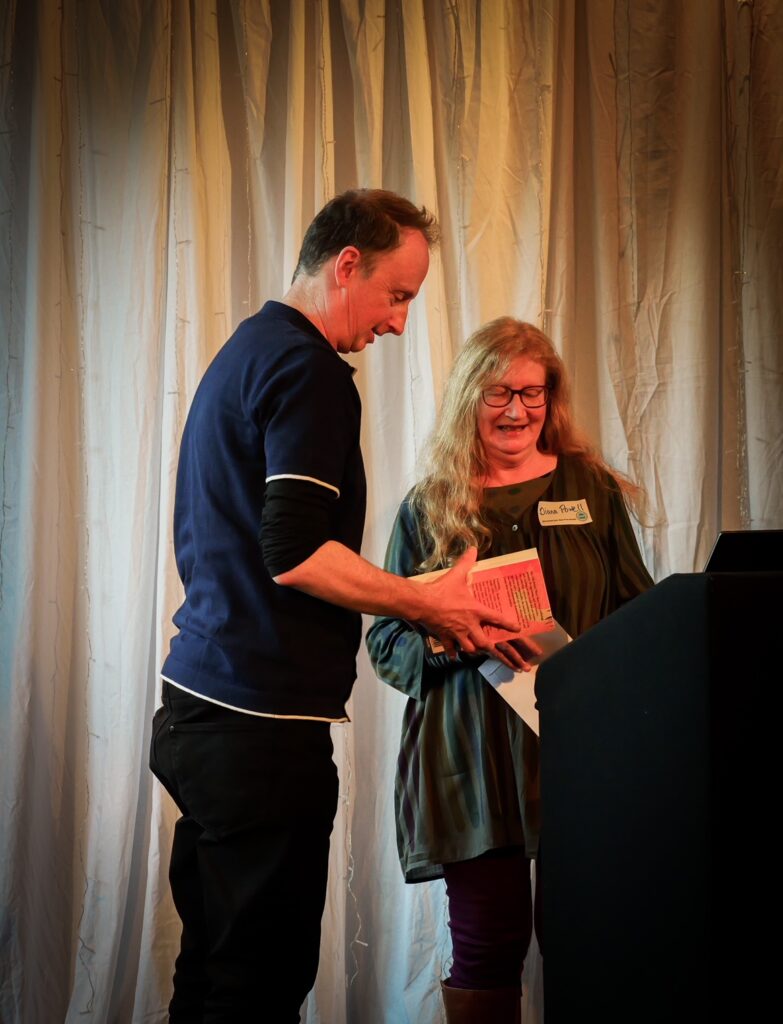 Then there were lots of other photos. I hate having my photo taken, but some aren't too bad, I hope.
Here are all the shortlisted writers, together with Joe at the back, and Martyna Gradziel (front left), who designed the cover.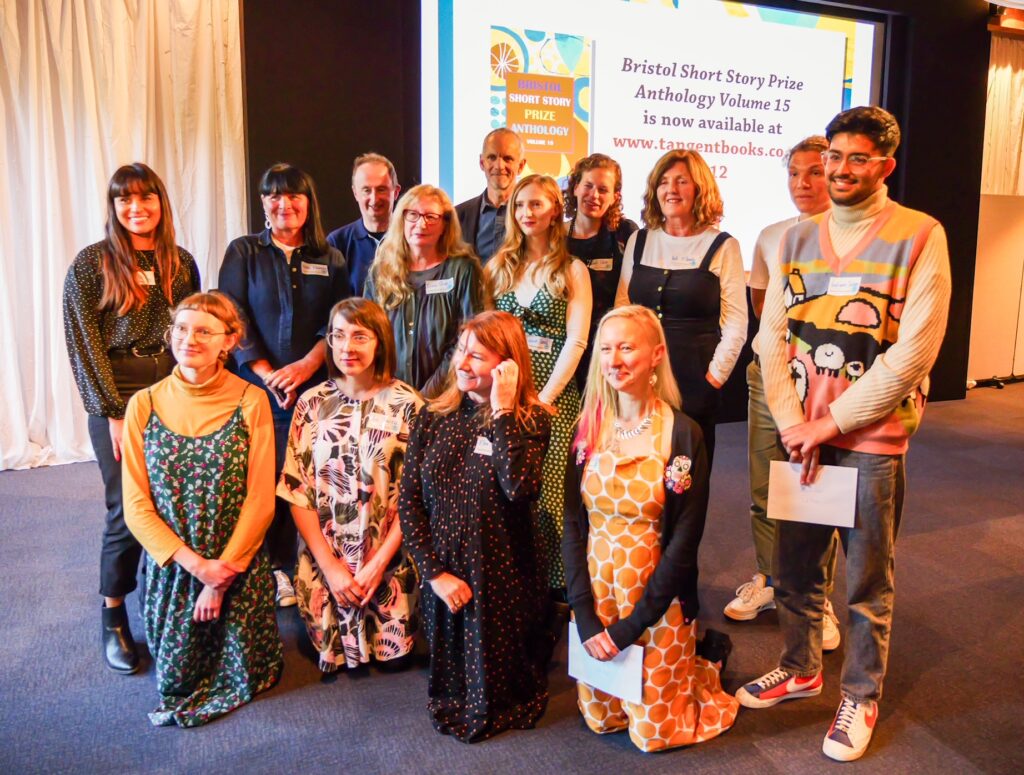 It was so lovely afterwards to have the other writers and guests come up to me and congratulate me. So many kind, lovely people. It was lovely to meet you all.
And then it was time to go, picking up my two copies of the book from Richard of Tangent Press, who are the publishers and have done a great job. I love the fact that it has a photo and biography of every writer is in there, accompanying their work.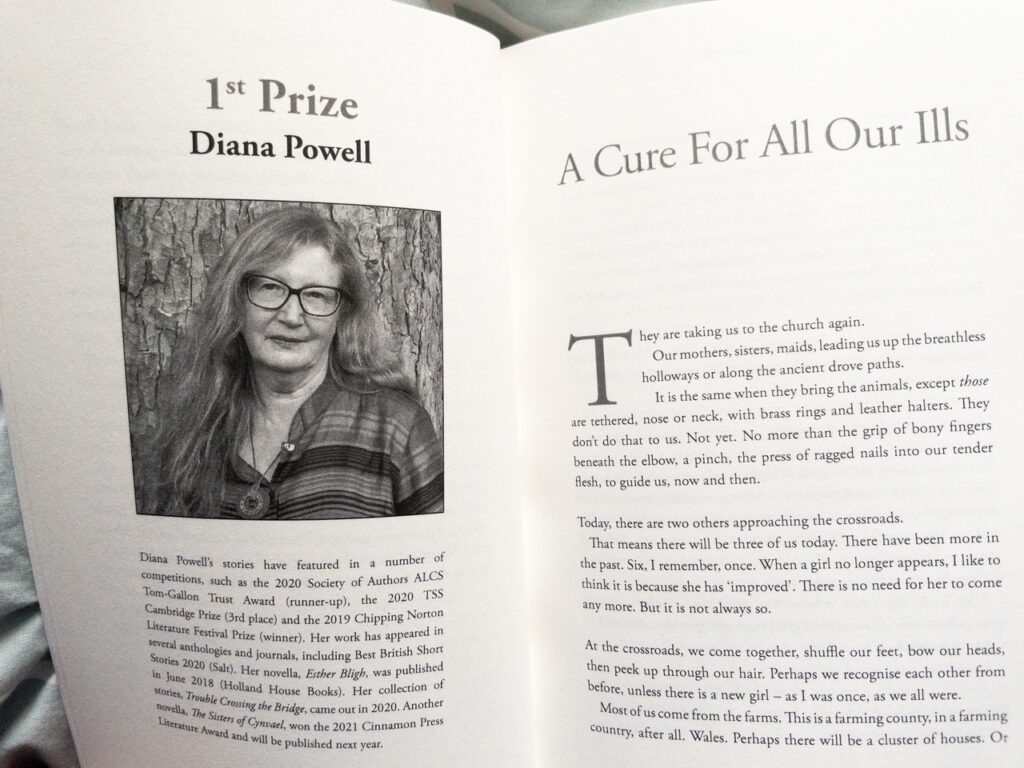 I was particularly thrilled by the Introduction, in which judge Irenosen Okojie hails my story as 'A brilliant, hypnotic piece from an exciting voice. I had the feeling of holding my breath through this story. From its powerful, palpable opening, I was immediately invested. The use of tension, the exploration of religion, of a sacred space becoming dark and unknown propels this world forward. Every word on the page is earned.'
What can I say, but 'Thank you' to Irenosen, and everyone at the Bristol Short Story Prize.